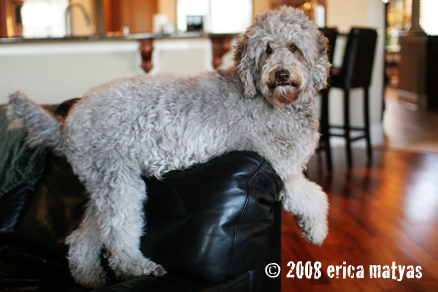 Rainmaker Ranch Labradoodles in Florida, South Carolina, Missouri and Ohio, our Home Environment, References and Contact information
Rainmaker Ranch Labradoodles Mission:
To bring families an exceptional labradoodle, exceptional in labradoodle health, temperament and conformation.
Who are we (Krista, Crystal, Evie and Kathy) and how we support the Rainmaker Ranch Labradoodle mission
LABRADOODLE HEALTH:
We keep on top of research in canine health and labradoodle health issues. We work closely with our vets and researchers plus listen to their advice. We select only the healthiest of labradoodle parents, grandparents and great grandparents for your labradoodle puppy. We have completed all the canine expert suggested health testing on all generations of your labradoodle puppy to ensure a lifetime of health.
We believe that to breed a healthy family companion, then the parents of your labradoodle puppy must also be healthy family companions!
LABRADOODLE TEMPERAMENT: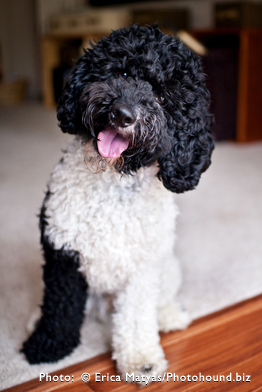 Labradoodles should be loving, smart, silly, and laid back. We are very careful in ensuring that the labradoodle parents of your labradoodle puppy have the same temperament you would want in a family labradoodle dog.
We are three expert breeders working together, we only have one or two australian labradoodle dogs each and one litter at a time so we can focus on the labradoodle puppies and the families who are adopting them. Our breeding dogs are loved family pets always living inside with us. We breed in our home under the supervision of our veterinarian breeding specialist, we do not cage or kennel our dogs or puppies. We follow the super dog training program from 0-8 weeks.
Our Australian Labradoodle breeding dogs are members of our family, sleeping on our kids beds at night, living indoors, and are loved constantly.
You know you have too many dogs, when you have no more room on the bed.
Since there are three of us, we can breed only one labradoodle litter at a time, inside with our family and the parent dogs and still place a puppy with your family in a reasonable amount of time.
We do NOT breed outside or leave our dogs outside for any length of time. They go outside for training, to play if they want, car rides and to go to the bathroom. They are NEVER outside when we are not at home or cannot watch them to let them back in as soon as they want in. You do not see any runs, cages, sheds or kennels because we do not have any. Our home is the dogs home.

The puppies are born and live in our home. We do NOT believe it is in the best interest of any dog to live outside or in a kennel except for crate training as a puppy. When delivery is near a whelping box is placed in a private room in the house. The puppies are born there and stay primarily in the whelping box with mom for the first three- four weeks. Monitored by us at all times, and handled by adults and teens in a safe manner.
At the age of four to eight weeks they live in a nurturing, activity and confidence building space with us and mom. They have outside playtime daily, playing in the yard or on the porch with mom and always a human babysitter. After 4 weeks of age you are welcome to visit during puppy playtime. Puppies are individually worked with on training, loved, held and kept clean. Our space is spotless and safe.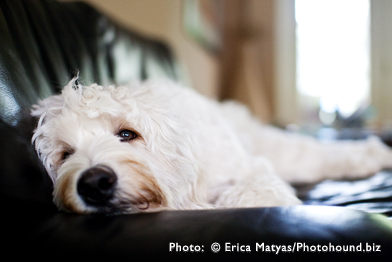 LABRADOODLE CONFORMATION:
We study the labradoodle mixed breed, labradoodle conformation (coat and body style) and understand genetics. We breed Australian Labradoodle Puppies and no other breed. Our soft fleece coated puppies are bred in Chocolate, Black Silk, Apricot, Cream, Caramel, Cafe, and Parti (two colors). We only breed fleece coats, soft and loopy. We breed wide body, stocky, silly dogs. We do not think labradoodles should look like any other breed; just a cool looking casual dog. We breed for non shed and allergy friendly (as much as a dog can be).

Well pictures are worth a thousand words so here are pictures and a few additional words below the image. You see a home because that is where our labradoodle dogs live we have NO kennels, runs, outside houses or cages. All our Labradoodle dogs sleep in a family memberís bedroom at night.

There are three of us all working together as Rainmaker Ranch Labradoodles following the Rainmaker Ranch Labradoodle Program.
We have two main locations (Florida and South Carolina) and two partners (Missouri and Ohio) who have just one girl. As family issues arrise and families needed to move, our program moved with them.
Rainmaker Ranch Labradoodle Breeder in Florida is where I (Krista) reside, breeding labradoodle puppies in Tampa, FL. I have Thelma with me as well as a few guardian dogs. If you go to the our breeding dog page, you will see which dogs are living at which location.
Rainmaker Ranch Labradoodle breeder in South Carolina is where Crystal lives, breeding labradoodle puppies in Charleston, SC, with two labradoodles in her home and a few dogs in guardian homes as well.
Rainmaker Ranch Labradoodle Breeder in Ohio is where Kathy resides, breeding labradoodle puppies in Cincinnati, Ohio with her familiy. Fiona is her only breeding girl.
Rainmaker Ranch Labradoodle Breeder in Missouri, is where Evie has Sophie, her only breeding girl.
We each live in a home in a nice neighborhood, providing socialization and interaction.

Having a small program is of great benefit to us, the dogs and the puppies. This keeps us small and able to focus on each and every breeding dog, puppy and the families adopting them.

References available and you may also call our vet to ensure the health of our breeding parents and our program:
We test all our puppies' parents for any genetic defects inherent in poodles, labradors and cockers. These are HD, PRA, VonWilabrands, Elbow, Thyroid, patella disorders. FCP, UAP and OCD, Progressive Retinal Atrophy (PRA prcd), and Tricuspid Valve Dysphasia.
These tests are performed by a US certified veterinarian, DVM. The tests are completed and then sent directly by our vet to an OFA certified radiologist or cardiac specialist for review and we are given documentation in writing signed by these independent parties.
Our puppies original breed parents are from champion bloodlines which reveals years of proven health, quality and temperament, we did not just grab any poodle and any labrador to begin our labradoodle lines. Champion poodles and labs, passing all genetic testing, passing temperament testing with breeding rights are not found easily.
We only breed when guided by our vet versus whenever possible as puppy mills do. Our parents are between 1 and 6 years old. Females over 7 years of age should not be breeding. After the age of 7 our moms retire and become excellent grandparents. This is to ensure the health and well being of our parent dogs.
Our parent dogs live in our house, sleep on our beds at night, are loved and cared for as one of our family NOT outside in a pen, or barn, breeding for a living. They are NOT living with a huge group like pack animals on open land with us visiting them. They are in the house with us as they want to be. Our program is designed to make them excellent role models for their puppies for the first 8 weeks of their lives, and excellent family pets with us for the rest of their lives.
We breed as true to the Australian Labradoodle breed standard as possible by only breeding Australian Labradoodles and 2nd Generation or later Labradoodles this involves years of breeding. We love First Generation Labradoodles just choose to breed Australian Labradoodles to get the look and non-shed coat.
Some breeders give their puppies all their shots and med's or have a staff vet on the payroll, never actually taking them to an independent vet, in that case you receive a hand written note of records the breeder or breeder's staff wrote. We take our puppies to a licensed Vet. They are fully examined, given their med's and shots each time, when you receive your puppy you take home a signed copy by our DVM vet of those visits and records. You also receive a 3-year health guarantee against any of the possible genetic defects inherent in Australian labradoodles.
Your puppies begin their training here as soon as possible. We use wee pads to begin potty training, and we work with them to teach them not to chew or bite anything but toys of which they have plenty. We work with an animal behaviorist to help us do what is best for our puppies and your family.
We allow adoptive parents come and see their puppy as it is growing and learning here, ensuring them their puppy is well taken care of.
We send weekly email photo's to you from birth till puppy pick up giving you a report of their progress and start the bonding process.
After pick up you can call or email us anytime with questions or as many families do just let us know how incredible their puppy is progressing.
This effort requires time, study, and research. Using the capabilities we each posses we cast a wide net to gather this information, learn and share. We believe our dogs are important. Our breeding dogs are not a commodity, producing something for us then sent to a rescue, a kennel or just abandoned.
We hope this page allows you to better understand why having three very small breeders working together is an advantage to you, it is an advantage to your puppy, to us and our dogs.
Click to email us at labradoodles@labradoodle-breeder.com
You can visit us in Florida, South Carolina or Ohio by appointment,
after you have an approved application
. Please note we do not allow visitors when we have puppies under the age of 6 weeks.

We PREFER EMAIL ,click for email, but if you need to talk to us you can call, please understand we have a family and sometimes returning calls takes some time, email is much faster given the time we set aside specifically each night to answer email.
Local to Ohio, North Carolina, South Carolina, Tennessee, Alabama, Mississippi, Florida, Michigan, Indiana, Missouri, Kentucky, West Virginia, and Georgia. labradoodle tampa FL, labradoodle cincinnati OH, labradoodle Charleston SC