Always on our mind is the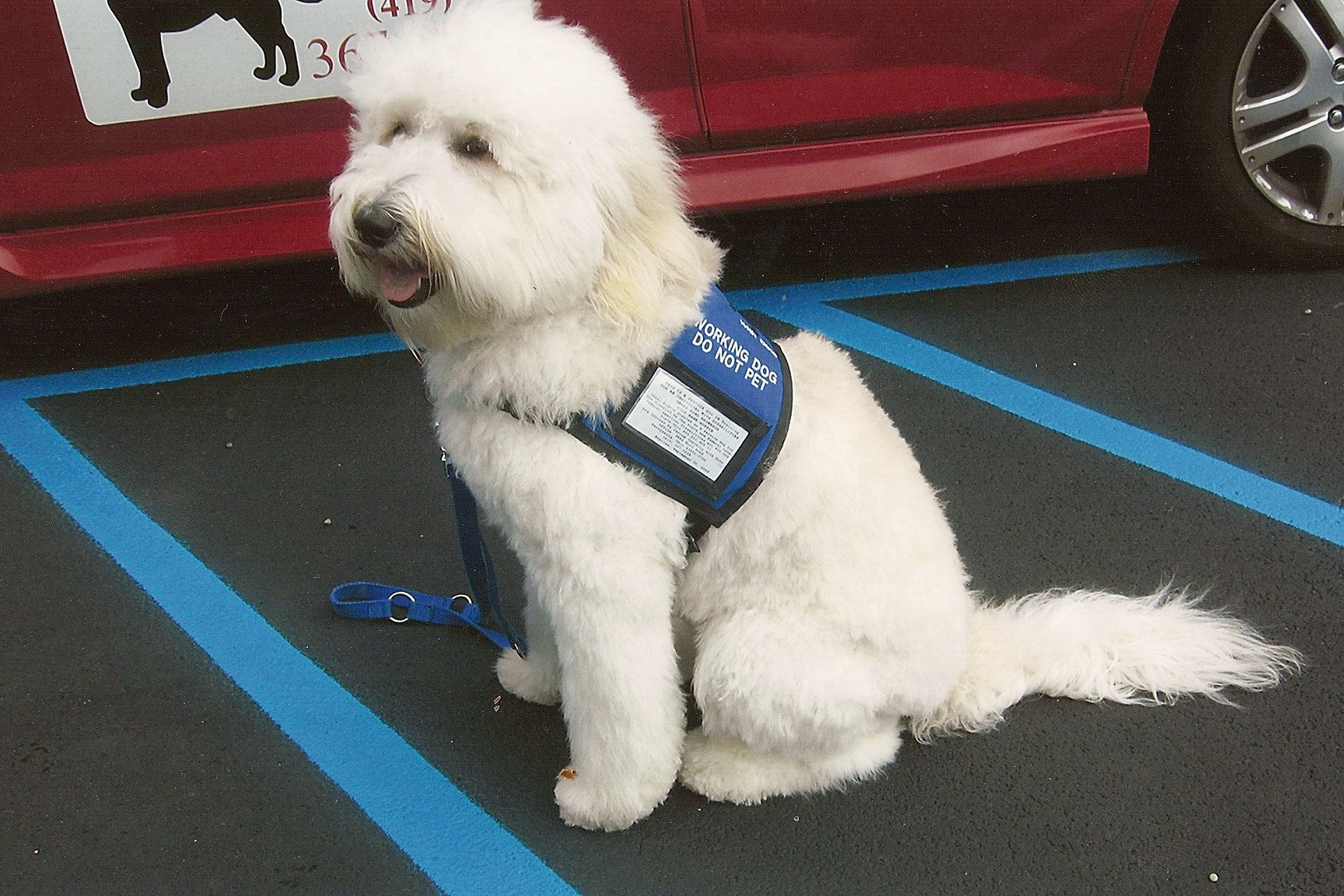 value an Australian Labradoodle has to offer children and adults with special needs. Whenever we have the chance, we place our dogs with these children, adults and their families.

Rainmaker Ranch Labradoodles has worked with various canine therapy programs and service dog programs in our efforts to place our puppies with kids and adults who need them the most.
I have my own special needs daughter and see how her needs effect the dogs and how the dogs respond to her.

The bond these puppies can form with children with autism and specific behavioral concerns is well documented today; however it is much more than a scientific principle. The love shared between a child and his or her dog is irreplaceable, and almost magical. We have worked with Dino Brownson of Canine Coaching and the Assistance Dogs of America, to train dogs of our program for individuals.

"She is the most perceptive dog I have ever trained or been with. I took her to the county Court House last week and she is now registered as follows with a tag that reads: Ohio Handicapped Assistance Dog, Permanent Registration 3643. I think that I may have mentioned that she is the youngest puppy to have ever passed the ADI Public Access test." --Dino discussing Muffin, a Stella and Casper Service dog, pictured below.

In each of these situations it is important that the beginning of a puppy's life is specifically tailored to therapy or service work. This includes indoor living, neonatal stimulation, daily behavioral molding, socialization with people of all ages, adult dogs selected to guide a puppy's behavior from whelp to 8 weeks of age and specific selection criteria.

In some situations an 8 week old puppy can go directly to a family to raise the puppy until placement within a therapy program or service dog program. In other situations it is necessary to further train a therapy or service puppy in daily living, provide house training and basic obedience before it is placed with a child or adult. We have also selected and placed our therapy dog and service dogs with kids and families who use the self training method titled Teamwork: A dog training manual for people with disabilities DVD and manual series.

We have over a dozen dogs that have passed testing for Canine Good Citizen and actively visit hospitals and homes for the elderly. We have four therapy dogs, three with autistic children, and one as a teen trained service companion following the Teamwork training series. We have dogs in service helping with those with PTSD. In addition, we have one fully registered service dog and one as a mold detection dog.
We strongly suggest a trainer, especially if you have young kids or special needs. Special needs families should consider a trainer necessary and a weekly part of their work for at least the first year to ensure the dog and family are working together. Although many families think training is easy and simple with this breed, training is not a one size fits all approach. Trainers meeting with families often can adjust behaviors (both the families and the dogs) before they become an issue that is difficult to address and many times personal approaches which may work for one dog do not work with others. Good trainers have the ability to read a dogs behaviors and adjust training approaches. We strongly suggest you listen to your trainer and follow thru. IF you disagree with your trainer find another who you can work with easily. Trainers have incredible abilities, trust them.

All in all, here at Rainmaker Ranch we always strive to do our best when it comes to children and adults with special needs, and we are proud to do what we do for these kids and adults. If you have questions please email or call us.