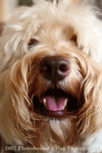 Click below to find more information on our Labradoodle puppies.
Rainmaker Ranch Labradoodles
We offer proven health, quality and temperament labradoodle puppies.
We test all our puppies' parents for any genetic defects inherent in poodles or labs. These are HD, PRA, VonWilabrands, Elbow, Thyroid, patella disorders. FCP, UAP and OCD, Progressive Retinal Atrophy, and Tricuspid Valve Dysphasia.
These tests are performed by a US certified veterinarian (Dr. Arun of Summit Blvd Animal Hospital, 561-439-7900, Dr. Fink of West Orange Animal Hospital 407-656-1800, or Dr. McCarty of College Animal Hospital Cincinnati) the tests are completed and then sent directly by them to a OFA certified radiologist or cardiac specialist for review and we are given documentation in writing signed by these independent parties. I personally would not trust the word of a staff vet on a breeder's payroll to perform and certify tests.
Our puppies parents are from champion bloodlines which reveals years of proven health, quality and temperament, we did not just grab any poodle and any lab to begin our labradoodle lines. Champion poodles and labs, passing all genetic testing, passing temperament testing with breeding rights are not found easily.
We only breed when guided by our vet versus whenever possible as puppy mills do. Our parents are between 1 and 6 years old. Females over 6 years of age should not be breeding. After the age of 6 our moms retire and become excellent grandparents. This is to ensure the health and well being of our parent dogs.
Our parent dogs live in our house, sleep on my daughter's bed at night, are loved and cared for as one of our family NOT outside in a pen, or barn breeding for a living. They are NOT living with a huge group like pack animals on open land with us visiting them. They are in the house with us as they want to be. Our program is designed to make them excellent role models for their puppies for the first 7 weeks of their lives, and excellent family pets with us for the rest of their lives.
We breed as true to the labradoodle standard as possible by only breeding Second Generation Labradoodles and Australian Labradoodles, this involves years of breeding. We love First generation Labradoodles just choose to breed F1B and Multigen to get the look and non-shed coat.
Our puppies are born inside our home and live there with their mom going outside to play many times a day, receiving lots of handling and love day to day.
Some breeders give their puppies all their shots and meds or have a staff vet on the payroll, never actually taking them to an independent vet, in that case you receive a hand written note of records the breeder or breeder's staff wrote. We take our puppies to a licensed Vet, Dr. Arun, before you take them home. They are fully examined, given their meds and shots each time, when you receive your puppy you take home a signed copy by our vet, of those visits and records. You also receive a 3-year health guarantee against any of the possible genetic defects inherent in poodles or labs.
Your puppies begin their training here as soon as possible. We use wee pads to begin potty training, we give them a collar to help them adjust to wearing one, and we work with them to teach them not to chew or bite anything but toys of which they have plenty. We work with an animal behaviorist to help us do what is best for our puppies and your family.
We allow adoptive parents come and see their puppy as it is growing and learning here, ensuring them their puppy is well taken care of.
We send weekly email photo's to you from birth till puppy pick up giving you a report of their progress and start the bonding process.
After pick up you can call or email us anytime with questions or as many families do just let us know how incredible their puppy is progressing.