Please know that although this website uses the word "breed" when discussing the Australian Labradoodle and Labradoodle both are mixed breeds and not an AKC recognized "pure breed".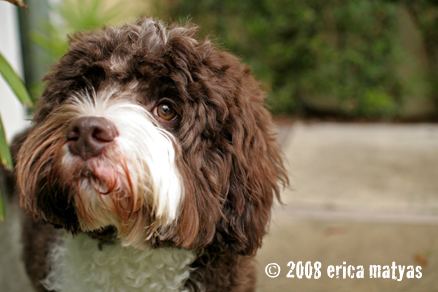 Australian Labradoodle Puppies of registered parents may be registered by you with either of the two associations depending on the parents. These two groups are the ALCA (Australian Labradoodle Club of America) and the ALAA (Australian Labradoodle Association of America).

You may register your spayed or neutered Australian Labradoodle puppy with the ALAA and/or the ALCA. With your purchase you will receive a 5 generation pedigree. This includes the AKC numbers, ALAA numbers, and ALCA numbers, if applicable to any and all lines. Only Purebred dogs can be registered with the AKC.

Any two purebred dogs, registered with the AKC can have their litter registered with the CKC and therefore a first generation labradoodle can be registered without question. The breed falls into the misc. category until the breed is accepted by the CKC as other than misc. The breed will most likely in my life time not become registered as a purebred with the AKC. An Australian Labradoodle or Labradoodle can compete in the AKC shows in agility and obedience but not conformation.
I believe that more important than the AKC, ALAA or ALCA is the acceptance of the Australian Labradoodle and/or Labradoodle into the OFA and Optigen as a separate catagory, both leading canine health testing agencies. I am proud to of been the lead and at the time president of the IALA/ALAA in this accomplishment.
FOR IMMEDIATE RELEASE
October 26, 2007
Contact: Krista Waitz

LABRADOODLE CATEGORIES CREATED BY OFA AND OPTIGEN
Commitment to Health Testing Brings Recognition to Labradoodle Breed

The OFA Board of Directors has approved the following:
* Approval of a single new breed code for Labradoodles (LD)
* Only dogs indicating Labradoodle as the breed AND with a registration number from the Australian Labradoodle Association of America (ALAA) or International Australian Labradoodle Association (IALA) would be registered under the new breed code.
* Applications indicating the breed as Labradoodle, but with a registration number from any other registering body or with no registration number would continue to be processed as Hybrids.

According to Eddie Dziuk of the OFA:
"The club registration criteria for registering dogs as Labradoodles is a response to the commitment to health demonstrated by the club not only in its strong code of ethics requiring health screening, but also in response to the club members demonstrated use of OFA evaluations."

Additionally, OptiGen has also agreed to give Labradoodle and Australian Labradoodle their own categories. ALAA Members need to notify Optigen of dogs already tested, their test numbers, and which category they should be in.

Here is exactly what the CKC has to say about these misc. breeds.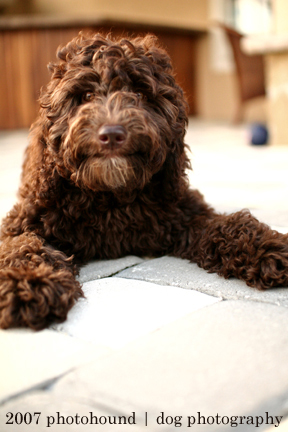 "Continental Kennel Club has a miscellaneous section for developing new breeds. CKC will recognize a cross between any two purebred dogs, and will issue a registration certificate on their offspring. These crosses are not registered as purebred dogs but are registered as the offspring of purebred dogs. The registration certificate for these crosses will show MISC followed by the two parent breeds. When we register a sufficient number of a particular cross, it will be assigned a name; for example, MISC: PEKINGESE / POODLE is MISC/PEK-A-POO. After a name has been assigned, we encourage those breeders who are breeding this cross to form their own breed club in order to set a standard for the dogs to breed true. The dogs from these crosses will not be registered as purebred until the dogs are breeding true to standard for several generations. By allowing the breeders the option of developing new breeds, we are promoting the breeding of better dogs. For more information on crosses being bred worldwide such as the Bichon/Yorkie, the Labradoodle, the Cockapoo, and the Bull Boxer, refer to The Encyclopedia of the Dog by Bruce Fogle D.V.M.

With Continental Kennel Club, new breeds must be developed in at least 3 different closed colonies. Having a minimum of 3 separate colonies guarantees a much larger gene pool when developing a new breed. These colonies will breed towards the same standard that will be set forth by CKC. Once the dogs begin breeding true to type, the colonies can then be crossed among themselves in order to maintain an even larger genetic pool. The misc. hybrid lines will continue to be bred should a second gene pool be needed for the protection and health of the new breed being developed.

Classifications on Misc. dogs will be changed once CKC has determined that these dogs have been breeding true for several generations, and has been approved for movement from the Misc. class to the purebred status. After opening the miscellaneous section of our club, allowing for the crossing of any two purebred dogs, we started receiving very interesting information from the breeders. We started getting reports that the offspring of these breeding were stronger, healthier, and less susceptible to diseases. When they bred the same Poodles to Poodles, their puppies were not as healthy, weaker, and more susceptible to disease, and they raised fewer puppies per litter. We were receiving information of this type from almost all of the crosses. With this type of data being compiled, we began doing crosscheck questionnaires and gathering other information about these unusual reports. This information that is being collected in our database will be of tremendous value in the study of genetics in the future. Our information, so far, seems to indicate that when two different breeds are crossed, the puppies seem to be far heartier, easier to raise, and less susceptible to diseases, which is now being confirmed by top geneticist worldwide. Since CKC's beginning this information has been collected and entered into our database and will be available for future scientific studies. To this end, we hope to provide for the breeding of healthier and more vibrant dogs, which will be less susceptible to diseases."
Although we joined both associations (ALAA and ALCA) in the beginning we have elected to not continue those memberships on our own accord. We have never been removed or asked to leave an association or website listing. We made these decisions based on a difference of direction from both associations for different reasons. We feel both associations do a fair job and have specific principles. Until such time that our ideals cross we will remain separate and a member of the various other networks that support collaboration among breeders, provide valuable services to owners and potential owners and parallel our own path for the good of the breed.

Specifically, we left both associations on good standing at at the time we left, we were a gold paw member of the ALAA and had what the ALCA calls true Australian Labradoodles. We were one of the founding board members of the ALAA (link shows our work in the ALAA) (President and Vice President over the years) and prior was on the board of the ILA (link shows our name at the bottom) (the name of the ALAA prior to becoming ALAA). Another link with our history is here.
Why? We felt the lowering of the health requirements of the ALAA was in contradiction with the OFA and PennHIP standards and the requirements of a not for profit were not being followed, both we could not support. We felt the closing of the stud books of the ALCA would set us on a path to required inbreeding which we refuse to do, and left us no option but to leave the ALCA. We wish them both well and have many friends still active members.