How small do labradoodles get? Under 20 lbs, yes, we do breed Toy or Micro Mini Labradoodle Puppies.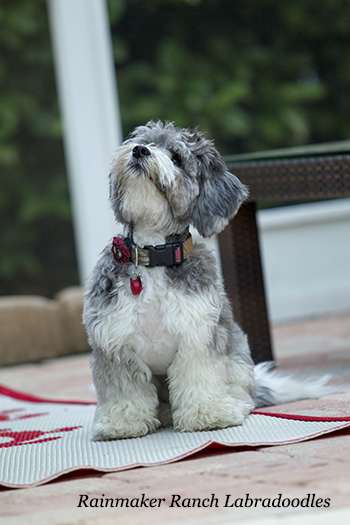 Australian Labradoodles come in four sizes: Standard, Medium, Miniature and Micro Mini Labradoodles. The breed standard defines Miniature as 14 to 17" to the shoulder, and usually about 25 lbs. Micro Mini labradoodles (Toy labradoodles) are under 14" to the shoulder and usually about 15 to 20 lbs max.
Our main concern with the breeding of Micro Mini labradoodles is to maintain the temperament, coat, health and conformation of their larger counterparts. Therfore we do NOT breed directly with toy poodles.
Finally, with careful breeding, we do have one line that fits the description of toy labradoodles or micro mini labradoodles, generally considered under 20 lbs, our toy labradoodles average about 16 lbs.
It has taken us 14 years to bring down the size and retain thesoft fleece coat, wide body and same temperament, but we have done it.
Pictured is Thelma (you can see the coffee table in the back ground) she is just 15 lbs and her shoulder is below the coffee table if she ducks she can walk under the coffee table). Also pictured is Louie (chocolate and white) who will be Thelma's husband once he is older.
Our toy labradoodles are bred in Tampa FL with me, Krista. Thelma resides with me in Tampa Florida and Jasmine, Charlie and Mae West are in Guardian homes close by.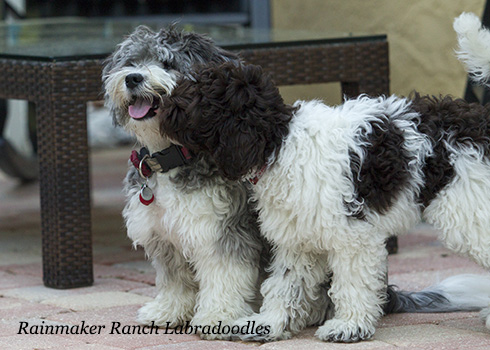 No one thinks labradoodles can come this small, well just meet one of ours and you will realize that big or small labradoodles are laid back, happy, sweet, very smart and comically silly.
Micro Mini Labradoodles for sale. Micro Mini LAbradoodle Information.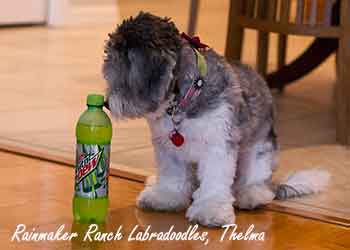 .